Dialed In…Gummies rings up wins in education, product quality, and employee treatment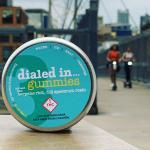 Dialed In…Gummies makes and sells small batch Liquid Gummies and Live Rosin Gummies (recreational and medical THC). Along the way, they're also making buyers informed, dialing up high product quality, and taking good care of their workforce.
Founded right before the pandemic, Denver-based Dialed In…Gummies made a commitment from day 1 to test products, educate, and provide "clean" solvent-free products… Continue reading
Westword Best of Denver 2022: Best Weed Gummy
There are so many options for weed gummies at dispensaries that picking out a pack can be disorienting, and most customers end up buying whatever's cheapest. If you're looking for a brand that deserves your loyalty, though, Dialed In has been working really hard to earn it. Colorado's first edibles maker to embrace rosin, Dialed In uses a sous-vide process to infuse gummies with rosin sourced from some of Colorado's most popular growers and extractors … Continue reading
Finding Gluten-Free Weed Gummies
Robhots makes gluten-free gummies infused with distillate and rosin. Courtesy of Robhots
My girlfriend is gluten-free, which pretty much makes me gluten-free. While her intolerance for all things wheat and flour has devastated my experiences with bread, pasta and baked goods, my intake of weed gummies has remained unchanged. … Continue reading
In 2021, most people have heard of THC and CBD — two of the most abundant and medically relevant cannabinoids in the cannabis plant. But how much do you know about CBC? Cannabichromene — AKA CBC — is another of the "big six" cannabinoids found in cannabis, made from...
read more
1st Place, People's Choice & Connoisseur's Choice
Red Gelatin by Bloom County
2nd Place
99 Pineapple Cakes by Vera
1st Place, People's Choice & Best Gummy
Memberberry by Artsy
2nd Place & Connoisseur's Choice
Mandarin Cookies by iion Cannabis